Meditation is an act that has been proven to be useful in training one's mind to focus and to achieve a sense of calm. It is practiced by individuals all around the globe with the use of apps or other facilities. Medigraphs is a visual meditation app, it has no audible instructions and hence can be used by people who find sounds distracting while meditating. In conversation with Founder, Steven Weinzierl, we learn more about this app and how it came to be.
What is the startup/product about? Give us a brief description of it.
Medigraphs: Visual Meditation is an application for iOS and soon to be Android devices. Medigraphs is the unique practice of meditation using a series of guided graphics. Medigraphs involves no audible instructions and no audible cues. The guided meditations are simply presented using a number of beautifully animated graphics. Each graphic implements a set of unique designs influenced and developed by the traditional methods of mindfulness meditation.
How many co-founders are there? Please introduce them and their backgrounds.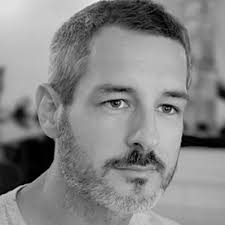 Just the one founder.
How big is the entire team currently?
Currently the company is made up of three employees, but we are currently looking to expand our production team.
How did you come up with the idea? What motivated you to do this?
Suffering from an Anxiety Disorder, I've found a lot of relief in guided meditations. Unfortunately, I sometimes have trouble becoming too distracted by the instructor's audible voice. The sound tends to break my concentration after long periods of silence. Luckily I happen to be a full-time graphic animator, so I used my skill set and off time to create a few animations to help guide my breath. After finding these animations beneficial I uploaded a few online. I got a lot of positive feedback from family and friends so I decided to develop a fully integrated mobile app through my production company Creative Hunters. Now I'm hoping others can benefit from the visual meditations as much as I have.
What is your target market? Why do you think your product will appeal to?
We are focused on reaching out to anyone interested in mindfulness meditation. From beginners with little experience to avid meditators looking for the unique benefits of practicing with Medigraphs.
What are the marketing plans apart from the product hunt/beta list launch? How are you planning to acquire new users?
We are currently building a marketing strategy that will focus on social media advertising through select paid services. Currently the App Store has already shown success with features and word of mouth.
Do you have a separate dedicated team to take care of marketing (digital marketing/traditional marketing)? Which digital platforms are you focusing more on?
Creative Hunters has already begun using internal services for the marketing of Medigraphs. The App Store, Instagram, and Facebook will be out key advertising platforms. And because most of the work produced at our company are commercial ads and print campaigns, we benefit from having a workflow already in place.
What according to you is the biggest challenge that you faced? Is it product development or marketing or scaling or … ?
Because my background is in the commercial advertising industry, I've had a good handle on getting the development and marketing together, but we are still very much in the early stages and know there is still a very large hill to climb.
Who are your competitors/alternatives? What sets you apart from them?
There are many meditation apps on the market and to be honest I use a great deal of them. The Waking Up app is one of my favorites and I use it almost everyday. And as good as some of these apps are, none of them offer the same benefits Medigraphs offers. There just aren't any fully featured visual meditation options. Medigraphs has always been developed as a companion application. It's not going to take the place of traditional methods, but it will expand the rolodex of what's possible with a guided practice.
What are the future plans with the product/startup? Any new features you are planning on?
Medigraphs: Visual Meditation will continue to grow with new features added weekly.
Know a great start-up story or want to share your own? Write to us at interact@insidermediacorp.com and we will get back to you. For more updates follow Venture Mirror on Facebook
About Author