From little children to the elderly, people all over the world enjoy reading. There are many apps available today that enhance the reading experience, they make the process of reading easy and efficient. Readminder is one such app. It is a mobile application that makes reading much more productive and fun. The app along with helping you keep track of your reads, helps you note down your thoughts and keep track of your favorite quotes in the book. In conversation with the Founder of Readminder, Bobae Heo, we learn more about the app and its different features!
What is the startup/product about? Give us a brief description of it.
Readminder is a mobile application service which provides users with a better and long-lasting reading experience. With Readminder, users can track their reading progress and keep their favorite quotes. It also helps customers record their thoughts while reading books.
Although It has been four months since Readminder was released to the public, we had more than 7,000 downloads so far. Readminder acts as a reading support app for now, but I am hoping to turn it into a tool that connects book lovers around the world.
How many co-founders are there? Please introduce them and their backgrounds.
If there are multiple co-founders, please mention how did you meet one another
Just me for the moment. My main profession is car development, but I have been challenging app development since last year. Currently I'm only available focusing on Android due to lack of time, so I do need an iOS developer.
How big is the entire team currently?
1 – I run this business by myself with the occasional help from freelance developers
How did you come up with the idea? What motivated you to do this?
For the past 6 years, I have been working in the car industry as an engineer. Before Readminder, I tried to run my business just because I didn't think I'm a good fit in the automobile industry. A colleague suggested a partnership in a pet business. However, due to lack of experience and disagreements with the partner, it was closed in the first six months.
After the failure of this project, I tried to find inspiration for my next business through reading. There were a lot of inspirational phrases I had read, but I realized I forgot most of them. A lot of memories that I had gathered about the books I read were lost as soon as I put them back on the bookshelf.
I wished I could remember my reading history and my thoughts while reading, forever. So, I started to work on developing an application which can bring my idea to life. At first, it was an app designed to assist me with reading, but I realized that many book lovers had the same concerns, so I started this business.
What is your target market? Why do you think your product will appeal to?
My target market is every person who is interested in reading books, especially those who constantly read books for a long time. They want to remember the books that they have been deeply impressed with as well as share their thoughts with one another. The more users Readminder has, the higher the value would be of this application.
However, as a small company, it is not easy to target all of them and introduce Readminder. Therefore, I'm targeting each region and age that are more likely to be interested in Readminder and promoting it to them.
What are the marketing plans apart from the product hunt/beta list launch? How are you planning to acquire new users?
I use Google Ads by means of paid ads and social networking platforms for without payment.
Google Ads is definitely an effective way, and you can promote your app to any country, but because it's paid, there are budget limitations. Although statistics are not completely accurate, about 70% of them receive Readminder through paid advertisements.
Despite this advantage, I prefer marketing through SNS(especially, Instagram and Twitter) to communicate with customers. Of course, there is the difficulty of managing this every day, but it is beneficial to receive direct feedback.
Do you have a separate dedicated team to take care of marketing (digital marketing/traditional marketing)? Which digital platforms are you focusing more on?
Readminder is currently a one-person company, so there is no separate team for marketing yet. Recently I have started to use 'Canva' for my posts on social media platforms. With this tool, I can make beautiful but simple promotional posts anytime, anywhere.
What according to you is the biggest challenge that you faced? Is it product development or marketing or scaling or … ?
One of the biggest challenges I had faced was the lack of expertise, since I was required to handle everything related to my business by myself. It can be quite challenging to take care of development, financing, marketing, customer service, etc. None of them are directly within my area of expertise.
So, I had to learn these things by myself and use them based on what I have learned, but it has the disadvantage that it takes a little longer than expected. This problem is solved through proper outsourcing employment, but it is not easy because of budget limitations.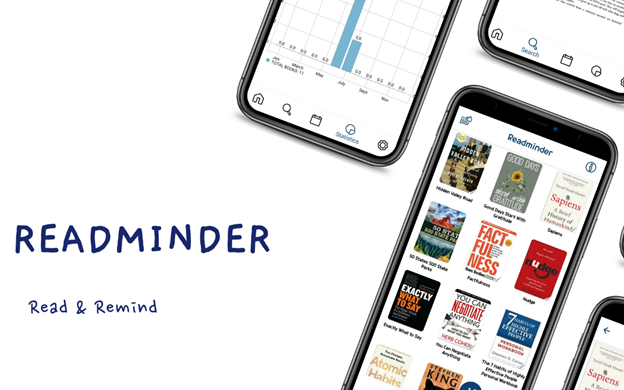 Who are your competitors/alternatives? What sets you apart from them?
Goodreads is the biggest competitor of Readminder. Goodreads is probably the largest website loved by readers around the world. Unlike Goodreads, Readminder's main difference is its simplicity. Goodreads is close to the community, but Readminder is a handy tool to help you read.
What are the future plans with the product/startup? Any new features you are planning on?
I hope that Readminder will not be just another mobile application, but more of an essential service for book lovers in the near future. As part of that, I also plan on running an online book club and a global reading community.
In addition, I am also planning on creating a paid service scheme for business continuity. Integration to small online bookstores is one of the options.
However, launching Readminder in the iOS app store is the priority for now.
Know a great start-up story or want to share your own? Write to us at interact@insidermediacorp.com and we will get back to you. For more updates follow Venture Mirror on Facebook
About Author