If you were to surf around the web, there are some fascinating alternative stories about existing movies and series. It's such great stories that get lost in time and fail to pick up. But if you're someone that is looking to convert your deep desirable thoughts about fictional characters and stories to be printed to books, ForgeFiction comes to the rescue.
A platform that lets thoughts and innovative stories get converted to hardbound books choreographed and altered on reviews & customer feedback is what ForgeFiction is all about. Venture Mirror's brief interaction with Areg Vardanyan, CMO of ForgeFiction, gave us some insights into the company and what it has to offer.
What is the startup/product about? Give us a brief description of it.
ForgeFiction is the first-in-kind platform that provides dedicated tools and voting mechanisms, which help multiple people to collaborate in creating full-length fictional novels and worlds.
Currently, millions of people are gathered in communities around their favorite fictional universes, where they join forces to create new stories and theories. Sadly, since those stories are written around copyrighted franchises, this enormous amount of talent and potential remains untouched, and authors don't gain the deserved spotlight. ForgeFiction comes to change this by aiming to direct the creativity of fiction fans into a generation of entirely original content.
Since the created content is original, it can be monetized in the form of books, and by licensing story rights to media industry companies such as movie studios and video game production companies. To support the community, part of the revenue from sales will be distributed among the creators.
How many co-founders are there? Please introduce them and their backgrounds.
There are four co-founders, and we've been friends for more than a decade. Unsurprisingly, all of us are huge fans of fiction in all of its forms, and we do write stories sometimes.
Hrach Toneyan is the CEO; he has a Ph.D. in experimental Physics and knows a bunch of stuff about lasers. More importantly, he is the person who came up with the idea of ForgeFiction, and he manages the product and invents all the functionality of our website.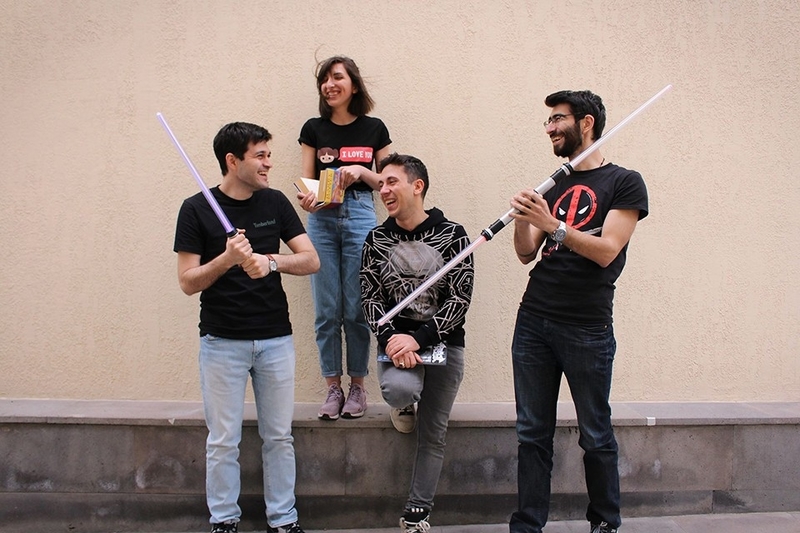 Gayane Gasparyan is a brilliant developer and our CTO. She leads the technical team in turning all Hrach's ideas into reality on our website. She is the most creative person in our team and always has ideas on how to make anything look better.
I (Areg Vardanyan) am the Chief Marketing Officer. I have an MBA, but my specialty is digital marketing. Using my skills, I try to help more people discover ForgeFiction and books created on our website.
Karen Shahnazaryan is the COO; he has a track record in business and holds an MBA degree.
How did you come up with the idea? What motivated you to do this?
We came up with the idea while surfing through some of the subreddits of Game of Thrones. We noticed that people were combining their forces and creativity, and as a result, we're able to come up with fascinating theories, plot twists, and character arcs. We immediately thought that these were just as great as George R. R. Martin's writings (and then discovered much much better than the last season of TV show).
Alongside us, many believed that the content produced on subreddits were significantly better than the writing of the show.
All of these led us to thinking: what if communities of dedicated fans were able to collaborate on a new and original story and be recognized for their work. This is how ForgeFiction came into existence.
On the other side, streaming services like Netflix and Amazon Prime are always seeking new sources of content. And we can help them with that.
Who is your target market? Why do you think your product will appeal to them?
Despite what many people think, the main target of ForgeFiction is not authors. We created our website for fans of fiction. Most of our users are fans of fantasy and sci-fi books or movies, people who love videogames or comic books, board games—basically everything Geek. Nevertheless, we also have amateur writers in our community and even several published authors!
Many people in the world have wonderful ideas and want to turn them into books. However, writing a book is a challenging task. Coming up with an exciting concept and setting; writing all the chapters; editing; publishing. All of these are steps that can kill off the passion for writing. ForgeFiction helps these people by collecting them into communities of like-minded and passionate people who help and motivate each other to write the book together, and then maybe see their work becoming a bestseller or a Hollywood blockbuster.
We are continually working on adding tools that would help the users to work together and enhance the quality of the content they create. However, communities don't solely consist of people who are good at writing. There are a large number of people who have great ideas for the world of the story, but they lack excellent writing skills. To ensure this potential is utilized, we have worldbuilding tools that allow submitting characters, locations, or any other element of the world in which the story takes place.
Who are your competitors? How are you different from them?
One of our competitors is Wattpad, a platform for amateur writers to post their stories and works to get feedback from their vast community. It is the most significant writing platform in the western market. However, the vast difference between us is that ForgeFiction brings in a completely different way of writing, where a community instead of an individual makes stories. This allows people who would never write stories by themselves, to become co-authors and contribute by writing a single chapter or adding elements into the lore of the book.
Several other websites are dedicated to writing stories as a community, but on their sites, people are creating only short stories that are then not monetized, and the writers can't become published authors.
What are the future plans with the product/startup? Any new features you are planning on?
One of our top priorities is securing a partnership with a Media & Entertainment industry company so that the content created on our platform can be transformed into movies, tv shows, and videogames. We have some fantastic stories that are being told on our platform by fans, for fans, and we believe that people would love to see their adaptations in other formats.
We've just released our Group Writing tools, which were very demanded by our users. These tools are dedicated to organizing the process of writing and helping our community members in finding co-authors, writing chapters together, discussing new ideas, and the overall plot of the book.
We also have worldbuilding tools that we are continually going to update. In the future, we will add functionality for visualization of different elements of the world like maps, characters, and we are also considering the use of Artificial intelligence for helping our users during the process of writing.
In the immediate future, however, we are entirely focused on the promotion of our newest book, which is an epic fantasy novel called Journeys Through Faladon: The Titan Divide. It is the first book in an upcoming trilogy and was created by around 40 people.
---
Know a great start-up story or want to share your own? Write to us at interact@insidermediacorp.com and we will get back to you. For more updates follow Venture Mirror on Facebook.
About Author