Your room is your monitor, your hands are the mouse – that's what Spatial says. At first glance it looks straight out of a sci-fi movie, but when you interact with it and use it, you feel it. Sci-fi fused into the real world. It's incredible.
To the uninitiated, Spatial is a new age product that creates a 3d version of your existing workspace and enables you to interact with your fellow colleagues who might be in any part of the world in the virtual 3d workspace. It's simply brilliant and really cool.
We at Venture Mirror had a little chat with Aaron Dence who is the product manager in Spatial. Here are the excerpts of the interview.
What is the startup/product about? Give us a brief description of it.
Spatial enables an entirely new way of working together, eliminating the need for video conferencing and work travel through AR or VR workspaces that unlock new levels of productivity not confined by space. As a device-agnostic collaboration tool that turns any room into a 3D workspace, Spatial, users can connect from all over the world to share and iterate on ideas and documents seamlessly and in real-time, using life-like avatars and knowledge work tools.
How many co-founders are there? Please introduce them and their backgrounds. If there are multiple co-founders, please mention how did you meet one another.
There are two co-founders. Anand Agarawala who is the CEO and Jinha Lee who is the CPO.
Anand has a passion for 3D user interfaces and founded BumpTop after his Masters thesis became a viral hit, leading him to present it in a TED Talk. BumpTop was a pioneering 3D, multi-touch, physics desktop interface inspired by real desks. It was acquired by Google in 2010. At Google, Anand worked on early versions of Android and Google Photos.
Jinha developed award-winning 3D user interfaces at MIT, Microsoft, Samsung, and presented them at TED. His invention SpaceTop, a gesture-controlled 3D computer that allows a user to reach inside the screen, was the world's first AR desktop. He was named as one of the top 35 innovators under 35 by MIT Technology Review and one of the 32 greatest living designers by FastCompany.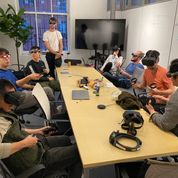 How did the founders come up with the idea? What motivated them to do this?
Both co-founders have long believed that computing would eventually live in 3D space and started designing user interfaces for that future with early technologies in the pre AR days.
Anand Agarawala, CEO and Co-Founder designed thesis project Bumptop, a platform that makes your icons and files behave like physical objects on your screen. It was one of the first products that gave the mass consumer market the taste of 3D computing. BumpTop later got acquired by Google and you can see some of its components still live in today's Android.
Jinha Lee, CPO and Co-Founder was also looking to build spatial user interfaces, and created SpaceTop, one of the first AR desktop projects that lets you reach into the screen with your hands and physically interact with digital objects. He believed that computers should be used by multiple people together in the same room, and later moved on to build collaborative content sharing experience for Samsung TVs.
When both founders first tried AR devices like HoloLens and Magic Leap, they realized the opportunity to finally build what they had imagined and deliver it to change how people interact with computers and each other.
Who is your target market? Why do you think your product will appeal to them?
Spatial is being used by a majority of the Fortune 10 and 40% of Fortune 1000. Since Covid interest and usage has increased by 1000% beyond traditional enterprises to also include SMBs, prosumers, doctors, educators, fashion designers and more, who are all looking for new ways to connect with teammates, customers, patients or students, or simply remain productive through these difficult times.
Who are your competitors? How are you different from them?
Zoom/video chat.
Distributed teams have a harder time building trust and collaborating effectively. As a result, they tend to move slowly. Videoconferencing breaks down with more than a few people, and isn't useful for anything beyond sharing a slide. Travel is expensive, exhausting, and terrible for the environment.
Spatial brings teams together in AR/VR from anywhere in the world into one shared room – to collaborate, brainstorm, share, and visualize information represented with life-like 3D avatars as if they were together, in the same physical space. The deeper sense of presence brings teammates closer and allows them to iterate faster, by collaborating on 2D and 3D information in real time.
Spatial sees the value of in person meetings but looks at ways AR and VR can improve on elements of it. By creating rich, interactive 3D environments that augment reality, it allows for exploration and collaboration that would be impossible in the physical world. AR and VR workspaces unlock new levels of productivity that are not confined by space or your 2D screen.
What are the future plans with the product/startup? Any new features you are planning on?
Spatial is focused on giving as many as possible access to its productivity tools, to empower anyone, regardless of location or company, to be more connected, creative, and productive.
Spatial recently opened up its platform for free, in light of Covid and also enabled users to access the experience from a browser via a simple link, much as you do for Zoom.
The platform is also device agnostic, working on enterprise grade headsets and the most accessible, affordable headsets available today, including Oculus Quest, Nreal, Hololens 1&2 and Magic Leap.
In the next month, the company is also launching its mobile native apps on Android and IOS, allowing for a much deeper user experience where mobile users can access most of the headset functionality directly from their smartphone. This includes uploading as well as iterating on 2D and 3D objects directly from your smartphone. This will mark a big moment for the company, breaking down hardware barriers by allowing full access on the device people already own.
Know a great start-up story or want to share your own? Write to us at interact@insidermediacorp.com and we will get back to you. For more updates follow Venture Mirror on Facebook.
About Author