This was the tweet that Elon Musk had sent out when he learned that Jeff Bezos was going to do something he had already started. While it may not be an exact copy, yet it didn't stop Elon from taking that dig.
However, that tweet would have been the perfect way to summarize the launch of a new video conferencing software by India's richest man – JioMeet.
JioMeet which was launched by the company Reliance Jio, has a UI that looks exactly like that of Zoom. In fact, at first glance you may not even know that there is a difference. On IOS, it even seems to use the same icons.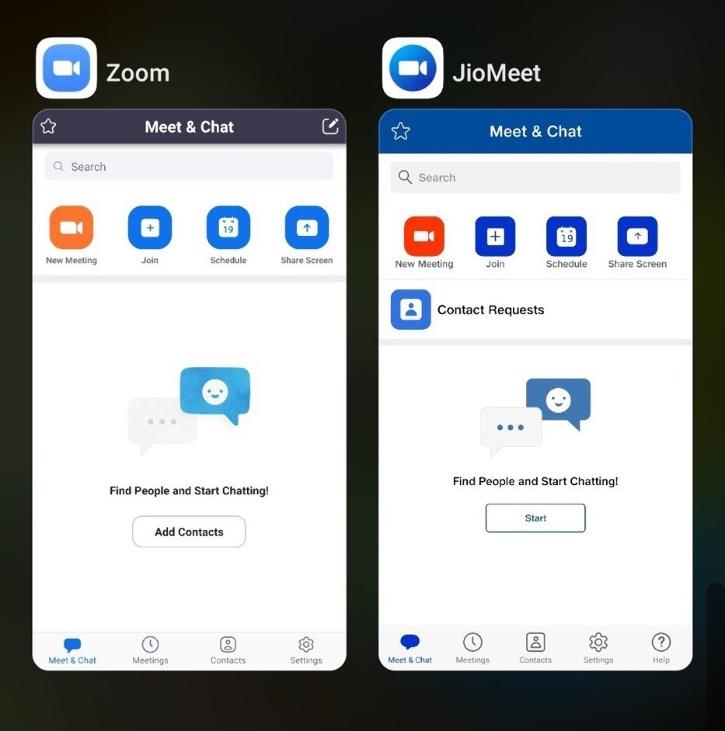 Jio is an Indian telecommunications company and subsidiary of Jio Platforms, headquartered in Mumbai, Maharashtra, India. It operates a national LTE network with coverage across all 22 telecom circles.
Currently, Jio has a subscriber base of 385 million people who started using the telecom network once it launched in 2016. The way Jio was able to garner so many subscribers at such a short span of time was because of the cheap data they had provided along with free data for three months and a promise of lifetime free calling to any network.
Until then, there was no precedent of providing data at such cheap rates and customers flocked to transfer their existing connections to Jio. Even though transferring an existing connection is a time consuming process that takes up to seven days and one needs to go and visit a physical store, customers were more than happy to do it because of the promise of lifetime free calls to any network.
Customers slowly started leaving other networks and Jio was able to get around 300 million in a little over three years of it's existence.
But then came the big news. Having achieved a huge number of subscribers, Jio announced that they would not be able to continue their lifetime free voice call plan. In their defense, Jio said that it did it because of the pressure of interconnect usage charge (IUC) rates set by the Telecom Regulatory Authority of India (TRAI). However, a company not accounting for such possible scenarios at the time of launch (when they offered the free lifetime plan) is something that is hard to digest.
In little over a week since launch, JioMeet has been able to get more than a 100,000 downloads. It's competitor Zoom, recently issued a statement after seeing the latest developments.
"Zoom has experienced intense competition since it was established in 2011, and yet we have become the platform of choice for millions of participants around the world," a Zoom spokesperson said in a press statement, adding that "we know what it takes to become the unified communications platform we are today, including the immense amount of work and focus required to create our frictionless user experience, sophisticated security, and scalable architecture.
One of the reasons, apart from the home grown angle behind people downloading JioMeet is that recently, the Indian government had sent a notification alerting people about the potential security pitfalls of Zoom.
However, considering that JioMeet is an exact copy of Zoom, we wonder if it decided to work on those pitfalls before releasing the app or went ahead and copied the security architecture as well.
About Author