Is it possible to elevate your LinkedIn presence without the self-promotional posts? Certainly! Achieving it is indeed possible, but not by consistently shouting unsolicited advice or sharing uninvited experiences on LinkedIn every day.
Building a personal brand involves gaining recognition as an expert, someone trusted to provide authentic and sought-after insights.
Why you should regularly post on LinkedIn?
► Out of sight, out of mind! Your followers only remember you and your brand if they see your posts in their feeds.
► This is evident from the increase in profile visits immediately after you post something.
But, at the same time, you should avoid posting Random Cringe Posts on LinkedIn. Here's why!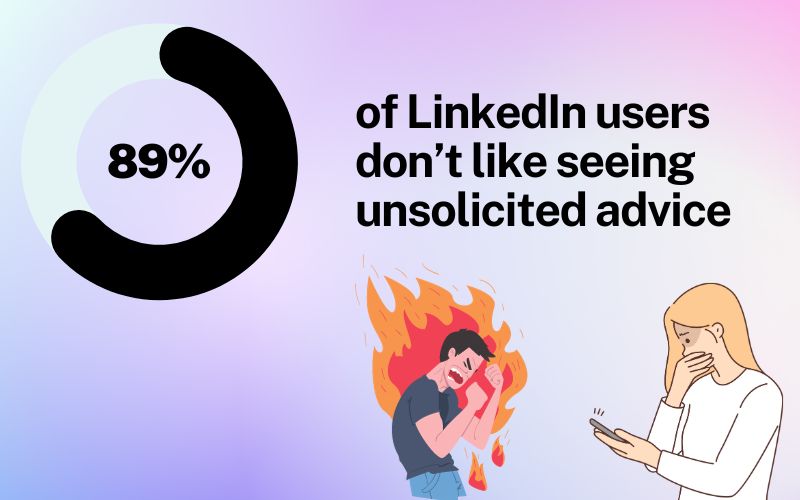 1) 89% of LinkedIn followers hate seeing unsolicited advice
Absolutely! According to a survey by the Insider Media Corp, over 89% of respondents revealed that they stop taking individuals seriously when they consistently share unsolicited advice on LinkedIn.
"You tell me, who gives unsolicited advice? Obviously, someone who is not sought after" said one respondent. So, If you've used LinkedIn ghostwriting services, such as profile writing or LinkedIn content writing, they're no longer going to work.
2) People don't like seeing self-promotion posts
Unlike most of the posts that ghostwriters provide you with, the most effective posts are those that come from a genuine place. Don't underestimate your readers' intelligence. Sharing stories like "I used to live in a poor neighborhood…" is outdated and won't resonate. This type of less-than-genuine promotion has been overdone for ages, and it simply doesn't work. Why? Because it lacks authenticity.
3) You need to post but shouldn't write self-promotional posts. How do you solve this dilemma?
Creating content is challenging, especially when managing a venture. It's a full-time commitment that requires both time and strategic planning to produce engaging content for your audience. Content creation isn't just about posting random Tweets or LinkedIn updates about anything and everything.
The aim of your personal branding is not only to seem genuine but to genuinely reflect it in your posts. Our approach addresses this by avoiding the creation of a fake avatar for you.

Team Insider Media Corp
A loved LinkedIn personal brand can be built with the following
We help you elevate your LinkedIn presence by focusing on three important points
➡️ Making you stay in the news. It is extremely crucial. The more your posts are visible, the more memorable you become.
➡️ Making your posts non self-promotional. We help you with constant content creation every month that you can post on your social media.
➡️ To help you be genuine, your real self. People love an honest storyteller.
But how are we gonna do it? Here are the 3 steps
► Stand out without self-promotion by providing your expert opinion on a topic in a publication every month
Contribute your expert opinion monthly on a topic curated specifically for your industry. This article will be published every month and it will ensure your expertise shines through, avoiding the noise of self-promotion.
► Be Industry-Recognized. Get constant content generated every month
Every industry has common domains that span across various sectors and ventures, including HR, marketing, sales, or technology. The basics remain the same. Share your genuine expert opinion on how you are solving challenges for your venture and establish yourself as a thought leader. Share the article link with your followers.
► Stand Among Peers. Join other CXOs and entrepreneurs in the same article
Join an exclusive league of CXOs and entrepreneurs in a collaborative showcase. Elevate your personal brand as your expert opinions take centre stage alongside industry stalwarts, ensuring maximum visibility and impact.
Summary:
↪ Every month you get to share your expert opinion on an article we will curate. Once published you will receive the link to the article.
↪ Be seen with other CXOs and entrepreneurs in the same article. Helps you to network as well as be seen as being in the league.
↪ Effortless LinkedIn Content: You get the article link every month to share on your social media to keep your readers engaged and keep them reminded about you.
Want to know more about it? Schedule a call with us now.